Tree & Turf Professionals, Inc. (630) 759-7389
Request an estimate for Emerald Ash Borer Control.
Emerald Ash Borer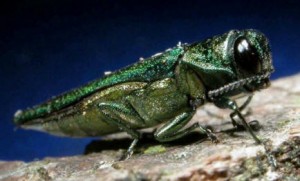 The Emerald Ash Borer is in Illinois. As early as June 2008,
several Ash trees were cut down in Naperville due to Emerald Ash
Borer infestations. As of Sept 2011, Large infestations have been
reported in Burr Ridge and Plainfield. In 2012 Emerald Ash Bore is
killing trees in Bolingbrook.
If you have Ash trees on your property that add value toyour landscape,
you should be aware of this insect and the damage it can cause.
Entomologists and Plant Pathologists agree that the Emerald Ash Borer
has the potential to wipe out completely, all Ash trees in North America.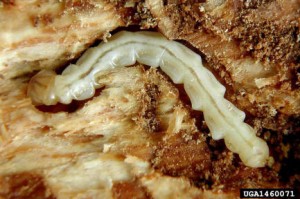 EAB larva
Emerald Ash Borer Facts:
•  Attacks only Ash trees (fraxinus)
•  Ash trees in the Legacy Tree Project in Naperville, Illinois
have been succussfully treated with Safari. Naperville Sun article.
•  Adult Beetles are metallic green and about 1/2 inch long.
•  Adults leave a "D" shaped hole in the bark when they
emerge in the spring.
•  Cutting down and chipping to 1 inch did not stop the
spread of Emerald Ash Bore in Michigan.*
•  The Emerald Ash Borer has been successfully treated
with systemic insecticides.*
*David Roberts, Ph.D., Plant Pathologist, Michigan State University
The Emerald Ash Borer will move through areas populated with ash trees
in a "wave of destruction" killing hundreds of millions of Ash trees in north America.
Treatment of desirable and valuable Ash trees should begin immediately and be
done on an annual basis until the wave has passed. Then treatments will have to
be done every other, or every third year.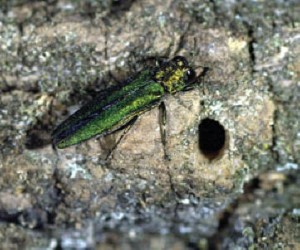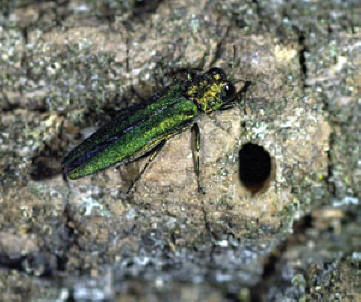 EAB adult and "D" shaped exit hole
TREATMENT OPTIONS:
There are three accepted methods of treatment for Emerald
Ash Borer; Direct trunk injection, soil drench, and basal bark spray
(trunk spray.) Each of these is a way of getting the insecticide into
the tree where the borers are feeding. Soil drench is considered
the least effective. The direct trunk injection with TREE-age and the
Safari basal bark spray are considered to be the most effective.
Here is an article that appeared in Lawn and Landscape regarding
the effectiveness of Safari insecticide. Valent announces Legacy
Tree Project two-year results. Naperville Sun article.
Tree & Turf Professionals, Inc.
751 N Bolingbrook Drive
Bolingbrook, IL  60440
(630) 759-7389
thepros@treeandturf.com
Tree & Turf Professionals has been serving Naperville and
surrounding communities in Illinois since 1986.